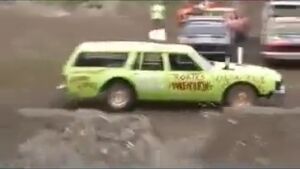 Sheldon Faulkner is my 2nd favourite derby driver. He makes plain derby cars, but makes them race like no tomorrow. In most of his cars he adds the tubes which connects to the engine which makes an awesome sound. He goes in the Musgrave Harbour sometimes and his biggest sponser is Tammy's Hair Salon.
2010 Gander Derby
Edit
In 2010 Sheldon put a yellow-green 1970 Olds Wagon. It had his sponsors written down on the side. The tubes looked awesome and they were tall. The car sounded great and preformed great and the acceleration was even better along with that
2012 Gander Derby
Edit
In 2012 Sheldon Faulkner put a black and brown 1986 Oldsmobile Delta 88. It could not do donuts but it did great. It only got stopped because he got shoved into the dirt pile. He could still run so Joey Mouland tried to push him out so he could continue, but it failed and Mitchell Murner hit him.
Ad blocker interference detected!
Wikia is a free-to-use site that makes money from advertising. We have a modified experience for viewers using ad blockers

Wikia is not accessible if you've made further modifications. Remove the custom ad blocker rule(s) and the page will load as expected.