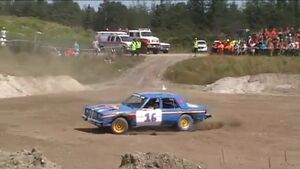 Miles Eastman is an AMAZING derby car driver. Though he has never won his cars have brilliant art work. He's been in the derby for a couple years. Unlike Brian Pilgrim who has been in it for 23 years
2011 Gander Derby
Edit
In 2011, Miles Eastman put in a 1999 Chrysler Intrepid designed as Lightning McQueen. It did pretty good. He put this in the compact cars round. The number was even #95 like actual Lightning McQueen
2012 Gander Derby
Edit
In 2012, Miles Eastman put in a 1994 Chrysler 5th avenue designed as Superman. It had a powerful engine and came like 4th, 5th, or 6th. This one was in the big car round,
2013 Gander Derby
Edit
TBA
Ad blocker interference detected!
Wikia is a free-to-use site that makes money from advertising. We have a modified experience for viewers using ad blockers

Wikia is not accessible if you've made further modifications. Remove the custom ad blocker rule(s) and the page will load as expected.