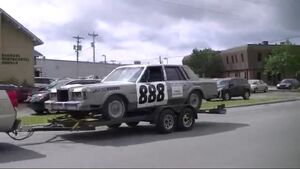 Holly Denine was the only girl derby driver in the 2012 Gander Derby. She did really good both times she was in the derby (2012 and 2013) She always uses the number #888 and her biggest sponsor is: John Denine Towing.
2012 Gander Derby
Edit
In the 2012 Gander Derby Holly Denine put a black & pink 1985 Mercury Grand Marquis. The bad thing was in the middle of the first big car round, her Grand Marquis's engine gave out so she could not bring it back in survivor round.
2013 GaNdEr Derby
Edit
In 2013, Holly Denine put a silver 2000 Ford Crown Victoria. The front and back of it got demolished. It performed great though and it has an amazing paint color and the number was written so great.
Ad blocker interference detected!
Wikia is a free-to-use site that makes money from advertising. We have a modified experience for viewers using ad blockers

Wikia is not accessible if you've made further modifications. Remove the custom ad blocker rule(s) and the page will load as expected.